Frequently Asked Questions
Here are some of the most frequently asked questions about becoming a tenant of PPS Homes, LLC. If you cannot find the answer to your question here, please contact the office at 253-426-3005
When is my rent due and where can I pay my rent?
Rent is due on the 1st of each month and is considered late on the 2nd. Late fees are applied to all payments that are received in our office after the 1st.
Rent can be paid by mail or in person to:
PPS Homes, LLC
5324 84th St E
Tacoma, WA 98446
Our office is open Monday through Friday from 8:00 AM to 4:00 PM. If the office is closed, please use the provided deposit slip to pay directly at any Chase Bank.
Please specify your last name and the house number in the memo field of your check or on your deposit slip.
For more information, go to our Payment Options page.
What is your policy regarding cigarette and marijuana smoking?
We do have a strict "No Smoking" policy, including Marijuana. Tenants are required to sign a smoke-free addendum and a marijuana addendum.
How do I submit a work order?
Log into to the Tenant Portal at PPS Homes website.
In the Tenant Portal, you can submit your request. Once submitted, we will be instantly alerted and take the appropriate action.
How do I access the Tenant Portal?
You can find the link to the Tenant Portal here. You will always be able to access it from the tab at the top of our website.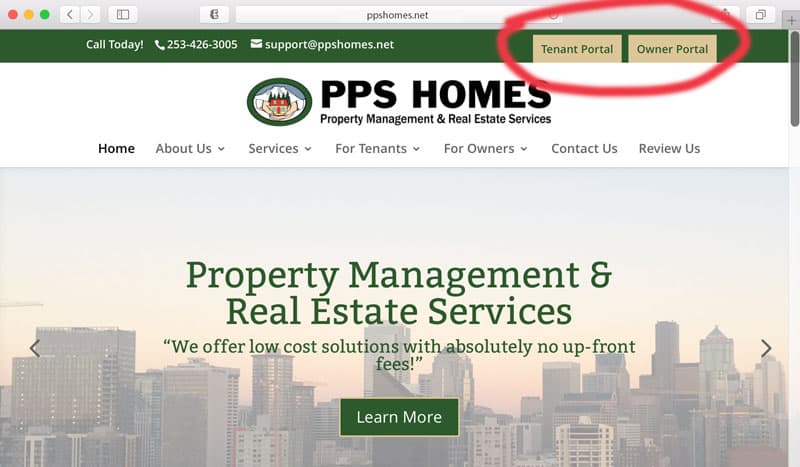 What do I need to provide if I have a service animal or emotional support animal?
Provide a letter from a doctor stating the need for an Emotional Support Animal (ESA) or Service Animal.
Am I responsible for utilities?
Each home has unique circumstances with respect to utility agreements. The Property Manager will assist to establish utility accounts for your home.
How can I update my information on my account/lease?
Email [email protected] with changes to your contact information, employment, or to request changes to your lease, including adding additional occupant or pet. Include RHA tenant info update form. (Let us know if you need this form and we will email it to you.)
What types of maintenance items am I responsible for?
Tenant is responsible for replacing batteries in smoke and CO detectors, and light bulbs as necessary. Furnace filters and water filters should also be changed on a schedule as suggested by the filter manufacturer. Tenant should notify Property Manager promptly when any other maintenance is needed.
Tenant Reference Documents
Click on a button below to apply for tenancy, view payment options,  or if you are a tenant of PPS Homes, LLC, you can log into the Tenant Portal to pay your rent electronically, print receipts, report requests and more.